Personal Money Guide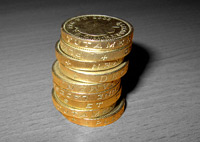 Welcome to Personal Money Guide – a site where you can find out about all the financial matters in your life. Discover how to make your money work for you, rather than spending your life working for money.
Dive into our articles to learn more about how you can become the master of your financial future. You are in complete control, so its worth making sure you have all the information you need to secure the best future you can for yourself.
Personal Money News
The Treasury and Department for Business is asking experts in the field for their views on how the cost of credit cards can be made fairer as part of a review of consumer credit.  The review will help inform the government's proposals on changes in consumer credit which will be published in 2011.
The review will also include bank charges – i.e. the charges for going over your overdraft or payments bouncing. We'll let you know as soon as they release any results from the review.
What are your views on this issue?
The base rate has been held at 0.5%, meaning it has been at this rate for the 18 months in a row now.  It was generally expected that there would be a hold on the rates. However, inflation is rearing its head, so there may well be a rise in rates in the coming months.
News from Moneyfacts suggest that mortgages are now become cheaper and more easily available.  The number of mortgages available for those with a 20% deposit has risen, while the number available for those people lucky enough to have a 40% deposit has shrunk.  Those with a 20% now have over 352 products available compared to 166 at the start of 2010.  This suggests lenders are becoming a bit more reasonable in their appetite for risk i.e. happy to lend against a  higher percentage of the property.  However, the number of mortgages available to people with a 10% deposit, mainly first-time buyers, is still low.
Have you been able to secure a mortgage that you would like?  Leave a comment to let us know.